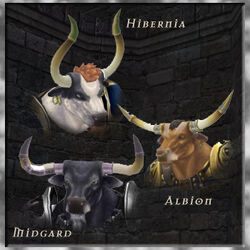 The Minotaur are a savage race, distinguished by their bull-like heads atop burly human bodies. They are a tribal people, the sundered remains of an ancient civilization, with various clans scattered across the Realms. The Uruz-Graoch settled in Hibernia, the Uruz-Deifang in Midgard, and the Uruz-Korazh in Albion.
The Minotaur are naturally brutish and sturdy. As a result, they have high Constitution and Strength values, but lower Quickness and Dexterity values. The Minotaur are also naturally resistant to heat and cold because of their thick hides.
Minotaur are combative by nature and do not shy away from melee combat. They have access to heavy tank and high-damage tank classes, as well as hybrids.
Appearance
Uruz-Korazh / Albion

Rustic, with long horns adorned with rings and other tribal decorations.
Uruz-Deifang / Midgard

Savage and fierce, with battle scars and eye patches. Their horns are tipped and often plated with metal.
Uruz-Graoch / Hibernia

Naturalistic, with curving, classical Greek horns.
Classes
Available to the Minotaur:
Community content is available under
CC-BY-SA
unless otherwise noted.